How much would you know about building and running a small business if you had started your first one two years out of college, been running one for 27 years, and had mostly spent those years helping other small businesses to grow?
I'm John Verba, a lifelong freelance writer, creative director and small agency owner, and that's the background I bring to my new enterprise, A RED PENGUIN Advertising & Marketing, in Herndon, VA.
I believe it's the perfect preparation to help small businesses like yours to generate steady and healthy growth, and to make the process sensible, friendly and affordable...
...and for building my own family-run business that can help to keep lots of other small businesses thriving and happy for many years to come.
We all know that advertising, at its highest levels,
is supposed to be "creative," complicated and costly.
I know that well; the foundation of my advertising knowledge was laid at the second-largest ad agency in Baltimore, working on accounts like Prince Tennis Rackets, The Baltimore Sun, Crown Central Petroleum and Esskay Meats.
There, if you weren't going to spend at least $300,000 a year on your advertising, you couldn't get in the door.
So for me, advertising got a lot more enjoyable when, after two years, I became a freelance copywriter working for small agencies and directly with small businesses. Suddenly, instead of meeting with teams of marketing managers to discuss campaign objectives, I was looking into the eyes of business owners with a service or product to sell, a payroll to meet, and the hope that our work could make clear to others how hard their team was working to provide excellence to its customers.
That put me on the front lines of efforts to inform real people about better solutions -- and the caring clients who offered them.
And I loved it.
Over the years, I've continued to do some work
for big names, and pick up valuable insight...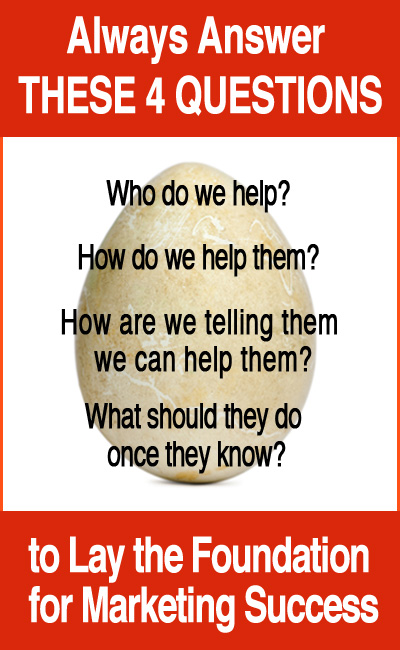 Inside this extremely ordinary egg lurks
an extraordinary secret: Your business
is different from the rest. A bold red
penguin waiting to emerge once you
show your offerings the way your
best customers see them!
...from top pros in corporate communications. My firm has done work directly for the American Chemical Society (ACS), National Geographic, and Discovery Communications. And partnered with other firms to land the Consumer Electronics Show (CES) and NRTC/DIRECTV.
But the more exciting projects, to me, by far, were those we did for small business owners who very much needed to see real results.
So far, these have included a lawn service, community bank, cabinet refacer, software developer, commercial developer, banquet facility, printer, and staffing service, among many others. Plus numerous nonprofits and small associations.
And it's been an honor to help them grow, using approaches most small businesses will never have access to.
Ready to see how fast-growth
small businesses use the very
same marketing techniques
as the Fortune 500?
Then get in touch with me today (see below), or be on the lookout for the coming issues of Hatching Business. I'll be describing how "Red Penguin positioning" employs the same mindset and methods that major mailers and Fortune 500 firms use to attract the prospects they want most...
...yet simplifies and streamlines the processes to fit the budgets and current potential of any small business eager to thrive.
NEXT ISSUE: A Red Penguin is one self-aware bird!